Specific Services

Post Offer Employment Testing
A short assessment, typically 45 minutes or less, of protocols built around job demands and given to newly hired employees to assess physical abilities such as lifting, carrying, pushing/pulling, and grasping to determine if the potential employee's functional capacity matches job demands. POET protocols include screening techniques to evaluate risks for repetitive strain injuries (i.e. Carpal Tunnel Syndrome, tendinitis or myofascial pain).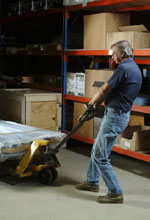 Those who cannot meet job demands are at a high risk of sustaining an injury. Based on results, the employer has the right to withdraw the conditional employment offer.
When the POET is developed and implemented properly and policies and procedures are well documented it is fully compliant with ADA and EEOC laws and regulations. In fact OSHA, 2002, highly recommended Post Offer Employment Testing. When choosing Medical Functional Assessments' we guarantee that our testing protocols will meet ADA and EEOC standards.
Benefits of the POET
Reduce frequency and severity of workers' compensation claims
Lower indemnity and medical costs
Approximately a 60 -80% reduction in workers' compensation costs when a POET is done.
Identify potential workers' compensation claimants before they are hired.

Learn More...
To read more about our Post Offer Employment Testing, click here to view our brochure.